The following article will help you better understand and utilize your News and Rate Advisor.
When is the New and Rate Advisor sent?
This marketing piece is automatically delivered on the 15th of each month by our servers to your list of recipients. You will be advised in your "Morning Summary" email that the NRA delivery is approaching. This allows you time to go into your newsletter and edit it as you see fit. Please have all changes saved and tested prior to the 15th.
How do I disable and reactivate my NRA?
Please go to Intouch > News and Rate Advisor > Settings Tab > Status > Mark As Disabled > Save Changes. *Make sure to reactivate your NRA when you're ready to start sending it again. Make sure it is 'Active' prior to the 15th of the month. If you miss the NRA because of an inactive status, you will have to wait for the next month. NRAs cannot be resent.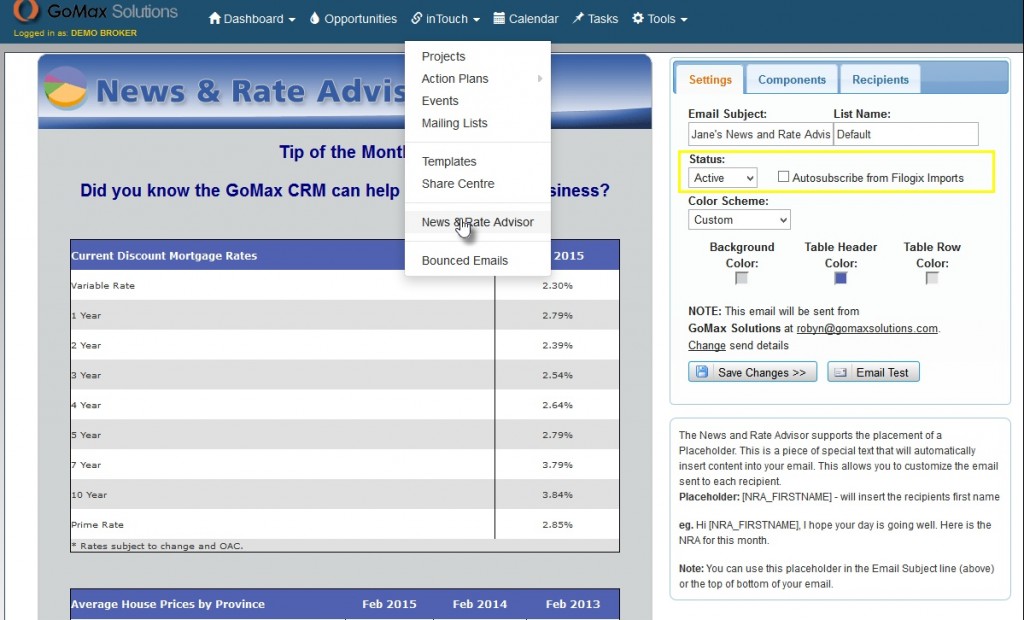 How do I add contacts to my News and Rate Advisor?
There are a few ways to deal with adding contacts to your New and Rate Advisor.
The first way is to select the option to "Auto subscribe from Filogix Imports" found on the settings tab in the intouch > NRA. GoMax Solutions has this setting turned on automatically for you so you have clients added right away. Ensure this is turned on prior to importing your clients/files. If you have it turned off, turn it on and save your changes for future importing. Assuming that you have Contacts in the CRM and an empty NRA, you will want to add all (or some) of your Contacts to the NRA. Go to your intouch > NRA > recipients tab > add recipients >  Search your CRM > select your desired search > select all > Add.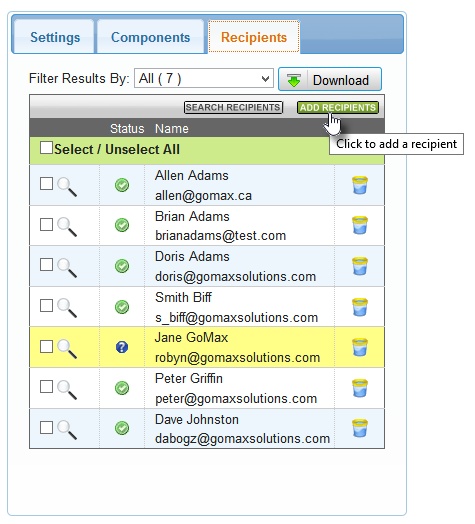 You can also subscribe contacts to the NRA from visiting the contacts profile page on your dashboard and going to their Communications tab. On this screen is a list of communications that the contact can be subscribed to. Click the green box next to the NRA so a green check mark appears. This will subscribe the client and vice versa to remove.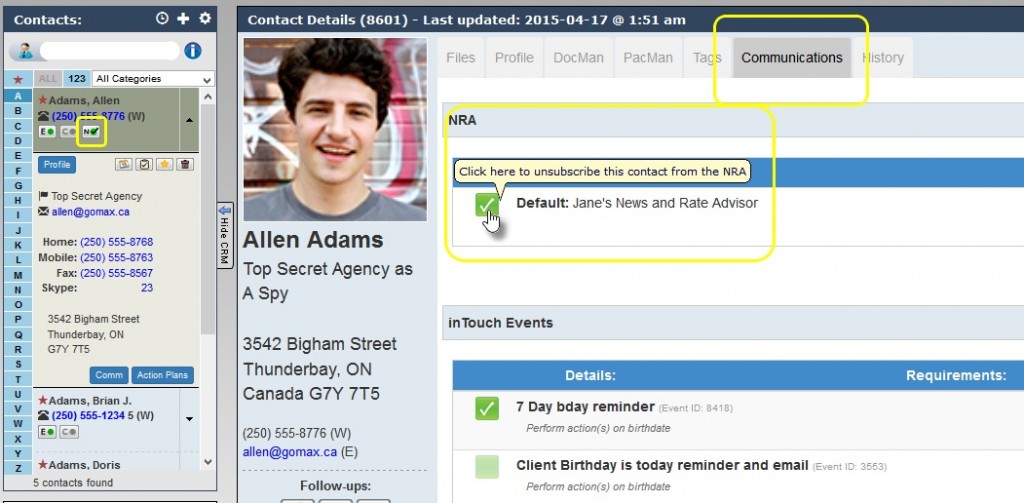 Finally, you can also subscribe a contact individually from the contacts profile page > contact tab. At the bottom of this page is the CASL setting for your contact. By adjusting the consent drop down to "Implied" or "Expressed" and selecting the News and Rate Advisor check box, this also acts like a subscription and vice versa. If you deselect the NRA check box in the CASL setting, this unsubscribes the email address.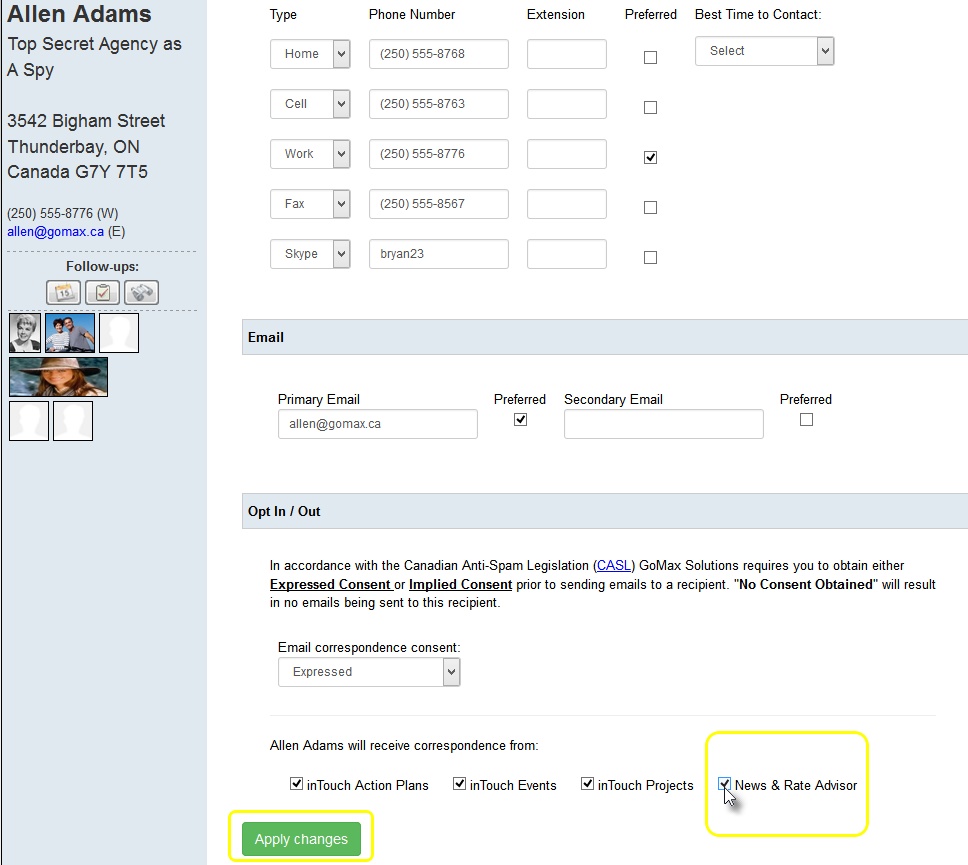 How do I properly unsubscribe contacts from my News and Rate Advisor and/or all other marketing pieces I may send in the future?
You will need to locate the contact in your dashboard and do to their Profile > Contact area. Go to your CASL settings and deselect all check box(es) that represent the outbound marketing you want to stop and Apply your changes. Also as effective is changing the entire CASL setting to "No Consent" and apply changes. The NRA and other marketing items do come with a unsubscribe link where contacts can unsubscribe themselves or customize their email experience/frequency. If you ever see some check boxes deselected, be careful about re-selecting them as you Contact may have customized this list on their own.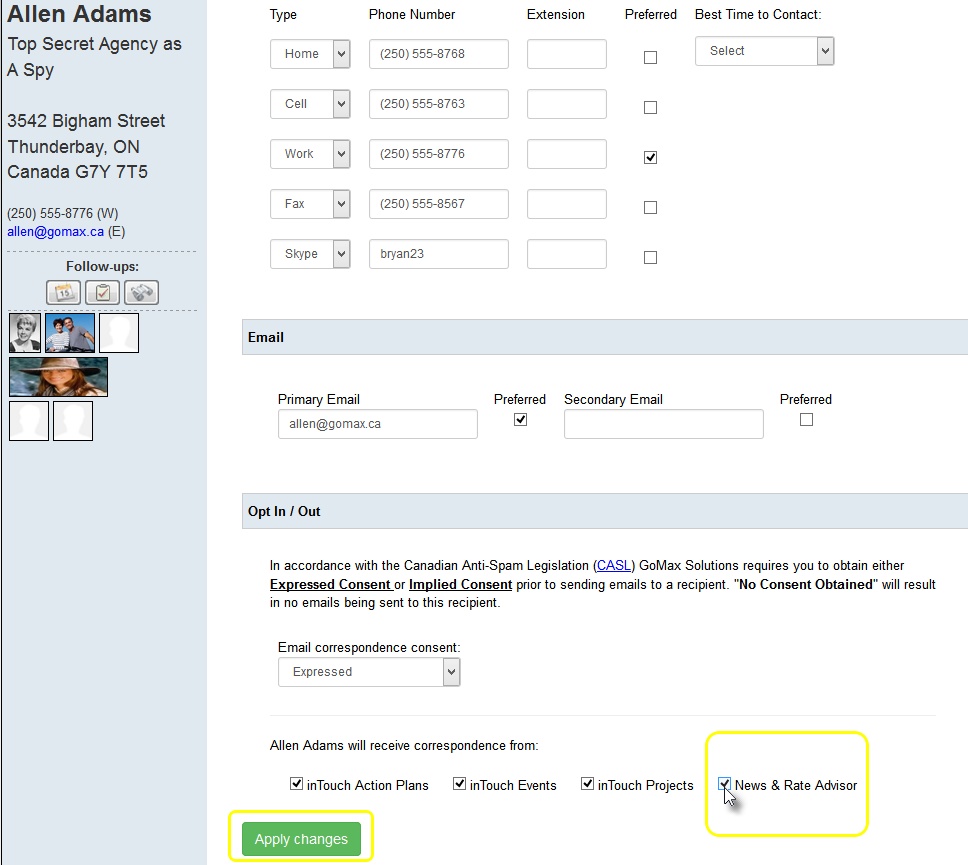 What does a "Pending" subscription mean in my NRA list?
"Pending" subscriptions to your NRA come from your GoMax hosted website through the NRA request form. When a Contact requests to be a part of your NRA mailing list, Gomax sends the requesting person an email asking them to confirm their email address (by clicking on a link). Once a person confirms, their subscription is then moved to "active". People who never confirm stay as "pending" and will not receive your Rate Advisor. You can manually manipulate these subscriptions in your list if required. You may often see bogus "Pending" additions to your NRA, you can safely delete these as they are Form Filling Spam Bots trying to exploit your contact list. Since these Bots are never able to confirm their email address, exploiting and spamming is impossible for them.  Delete these.
Did this article answer your question? If not, please contact us at support@gomaxsolutions.com