The Template Builder That Allows You To Design Email Templates In A Snap!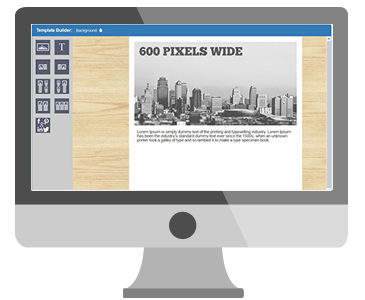 Text, Images, Colours & Backgrounds…

Add or change any text, titles, paragraphs…
Import your images, change the size, modify them and insert the link you want. Your images are hosted in your GoMax Solutions media library.
Personalize text colours, background colours, background colours of each module, and more…Insert your custom company colours!

Unlimited layout options. No coding required.

Create your own email templates in minutes. Build, move, destroy, re-build according to your vision! Just like Lego!
Jump into your GoMax Solutions account and create a new template using the "Template Builder" button that is available under the InTouch > Templates menu.
Start by giving your template a name and a customized email subject line!

Drag your desired module into the design area and drop it. This will reveal image regions and text that can be edited by you!
Give each of your template modules and background some colour! Click on on the rain drop icons for custom colours to make your design pop!

Save your work and send yourself an instant test email!
Thumbnail size and share centre updates:
To help you better identify the templates that have been created with the new designer, we have increased the size of the thumbnails in your template library! Whenever you see a larger thumbnail, it means that the new designer was used to create the look! We have also added a new icon next to these templates in your share centre so they can be easily identified!

---
F.A.Q
WILL GOMAX BE RECREATING TEMPLATES THAT I CAN IMPORT AND USE FROM THE SHARE CENTRE USING THIS EDITOR?
Yes, our GoMax design team will be slowly recreating all of your share centre content with new, updated templates/action plans that make use of the new template creator. All you will have to do is import these templates into your library. Keep an eye on your GoMax notifications window (the one that pops-up when you log into your account) for our new template share notices.
Have special template(s) that you would like to have rebuilt in your own GoMax account for you using the new creator? Contact our sales department for more info.
WILL THE OLD TEMPLATE EDITOR REMAIN AVAILABLE?
Yes, the old editor will remain available for those who wish to still use the editor. It will also activate if you decide to edit an existing template in your GoMax account that was previously build using that editor.
CAN I OPEN MY OLD TEMPLATES IN THE NEW CONTENT EDITOR?
The underlying code in drag & drop templates is vastly different from the old templates. Therefor it's not possible to simply open your old templates in the new editor.
---
Need additional help? Please contact us!